Loot Crate has released the theme for their November 2015 subscription box:  "Combat"!
Subscribing to Loot Crate gets you a chance to win the November Mega Crate!
Amazing!  And don't forget Loot Crate's "Level Up" program!
---
UPDATE 11/29/15:  Crate reveals are out!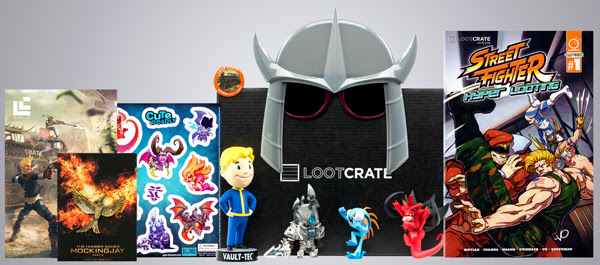 November's loot really packed a punch! We included a bunch of COMBAT-ready items like the EXCLUSIVE Fallout 4 Vault Boy Bobble Head (for a little post-nuclear panache), Cute But Deadly Vinyl Mystery Figures (with a chance to get an orange Murloc that can't be found anywhere else) and an EXCLUSIVE Magnet Set! Plus a pair of TMNT Shredder Sunglasses that'll have you looking sharp all year long, a Hunger Games Mockingjay Part 2 Pin to set your style on fire and an EXCLUSIVE Street Fighter Hyper Looting Comic for an uppercut of awesomeness!